Sunil draws on over 25+ years of global management experience across the manufacturing and professional services industry. A results driven seasoned executive, prior to joining the DataFlow Group, Sunil held COO and CFO roles with Deutsche Bank, Genpact and GE.
Sunil is a certified management accountant and holds a Master's degree in Accounting and Law.
Sanjeev has over 22 years of experience in operations, research and analytics and finance with multinational companies. 
Before joining DataFlow, he was the head of equity research at Copal Partners managing teams and delivering high-value research, analytics and business intelligence to clients. Prior to that, he was with Genpact in Financial Planning & Analysis and managed Treasury operations for GE's Insurance business. 
Sanjeev started his career with GE on the company's prestigious Financial Management Program (FMP) and holds an MBA from Symbiosis Center for Management & HRD, Pune.
Garry has spent more than 30 years in the technology industry, with over 20 of those years in the banking sector having held posts in TSB, Barings, ING and Macquarie.
Originally from London, England, Garry has spent the last 20 years based in locations throughout Asia including Japan and Hong Kong, and prior to joining the DataFlow Group was responsible for setting up and managing a 1,800 person global IT support centre based in The Philippines.
Now based in Dubai, Garry brings his considerable leadership and technology experience to the DataFlow Group to ensure that technology provides the company with an industry-leading advantage.
Rafi has over 20 years of rich experience in Sales and Business Development and has worked with top Engineering Software Solution firms like Bentley Systems, Aveva Solutions, and Hexagon as a Business leader.
An engineer who also holds an MBA degree from the University of Leicester in the UK, Rafi leads the Commercial division at DataFlow, where he establishes the key strategic priorities and translates them into a comprehensive strategic plan, that spans the capabilities of the DataFlow Group across the globe.
Prior to the DataFlow, Rafi was the Vice President at Hexagon PPM leading the Middle East and Africa markets.
Tony is a seasoned finance professional, with 15 years of global experience predominantly in blue chip multinational companies. Before joining the DataFlow Group in 2018, he spent nearly seven years at Serco Group plc, a FTSE 250 UK listed company, where he served as Finance Director overseeing their Integrated Services Sector across the Middle East.
Prior to Serco, Tony was the Finance Director of the Mubadala subsidiary John Buck International in Abu Dhabi; before that, he worked with Goldman Sachs Bank in London and PwC in Wellington, New Zealand, which is his hometown.
Based in Dubai, Tony is a qualified Chartered Accountant, having also achieved a 1st degree honors in Accounting and Commercial Law.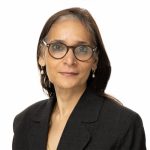 Chief Human Resource Officer
Sunita Shakdher Menon has over two decades of rich HR experience across industries including travel, consulting, and airline.
She has a diverse professional background in Human Resources, Digital Transformation, Operations, and M&A integration, leading teams and partnering with leaders to align business imperatives with people priorities.
Sunita holds a MA degree from Delhi University in Operational Research and is qualified in cyber and data security.
Leading the Global HR agenda at DataFlow, Sunita partners with the leadership team to drive programs for the growth and development of colleagues and is passionate about creating diverse and inclusive work environments.